Best Spot Welders For Battery Packs
Posted on: Fri Apr 14 2023
Are you new to DIY electronics or looking to upgrade to the best spot welder for your battery pack builds? Finding the best spot welder for your exact needs can be a real challenge if you are new to the field.
For the most professional results and to be able to weld the widest varieties of materials, the best spot welder for battery packs is the Kweld. If you want kweld-like performance but don't have a kWeld budget, then your best bet is the Arduino Battery Spot Welder. If their large size and limitations are not a concern for you, then you should consider either the SUNKKO 737G+ or Mophorn 709A benchtop spot welders. For those building small battery packs, the SQ‑SW1 Spot Welder and the Kerpu Rechargeable Portable Spot Welder provide excellent portable, low-cost solutions.
Having the right spot welder and knowing how to use it can make battery building a breeze. In contrast, trying to do more than what is possible with a low-end welder, or simply not knowing how to use a high-end welder can make building a battery pack a frustrating and even dangerous process.
Learning spot welding is surprisingly easy. There are just a few key aspects to keep in mind and a few things to avoid. Once you get the basics worked out, building batteries is actually pretty easy to do.
We scoured the internet for the latest and greatest spot welding options and compiled the top 5 spot welders into this list for you.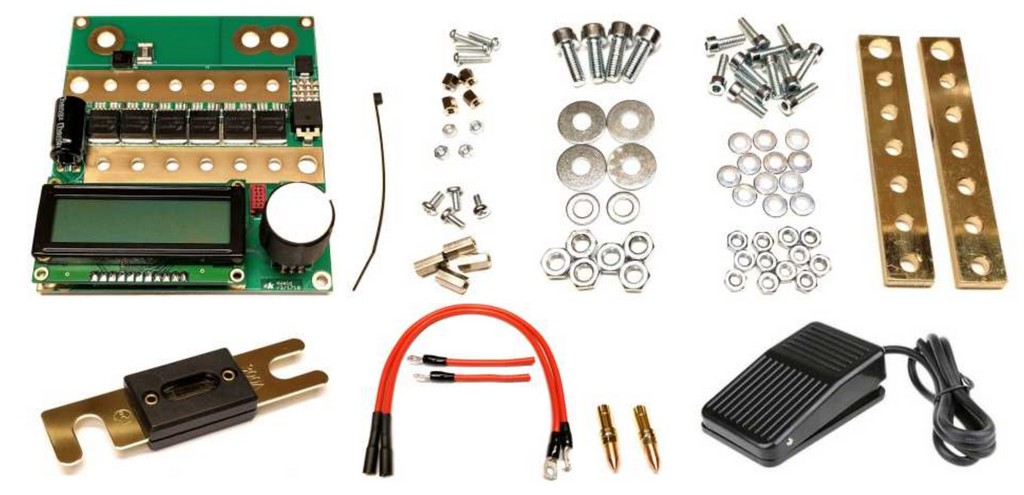 KWeld - Overall Best DIY Spot Welder
The Kweld is, by far, the absolute best battery spot welder you can get. Almost nothing can compare to the performance of the Kweld. It has basic but very effective software that has all the options a battery builder would need right there at their fingertips.
Most spot welders use a preset pulse length to set the intensity of the weld. This means that the amount of current cannot be regulated. These systems instead vary with the electrical resistance of the weld spot itself. There are several factors that can cause this solution to be non-ideal, such as corrosion, contamination, fingerprint grease, and how much force the probes are being pressed down with. This results in a wide variation in the amount of energy that goes into the weld, which leads to highly inconsistent results. The solution to this is to use several more pulses to soften the metals and help burn away any contamination that may be there.
But wait! There is an even better way to do it. Consider this: If the amount of energy put into the weld area is maintained at a constant level, then the same amount of metal is melted each and every time. This is the technology that kWeld brings to the table. With a kWeld, you don't have to experiment with various time intervals or number of pulses. You simply dial in the amount of energy you need, and begin building batteries! The kWeld software will automatically adjust the duration of the pulse so that the same result is achieved every time.
As long as you have a good enough power source, the kWeld is able to weld pure nickel strips up to 0.3mm in thickness. It has so much power it can even handle spot welding a copper-nickel sandwich. Don't let its brute force power fool you though; the kWeld is also nimble enough to weld ultra-thin copper wires at low energy levels.
Unlike most other welders, the kWeld supports firmware upgrades. It's not open source, so unless you are really into hardware hacking, you won't be making your own kWeld firmware, but the makers of this kWeld do release regulator firmware updates that fix bugs, add features, and improve the user interface.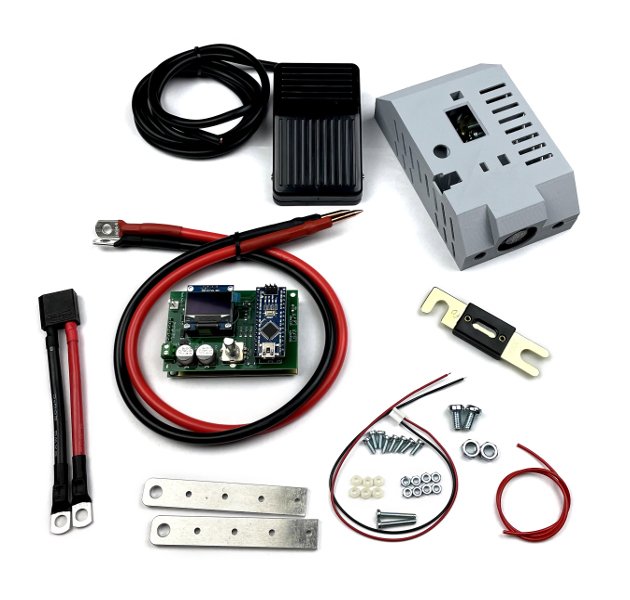 DIY Arduino Malectrics - Runner-Up Spot Welder
This is a pre-built version of the legendary Arduino spot welder (version 4) also known as Malectrics. It has all the electronics already soldered to the boards.
The kit includes the following:
An Arduino Nano is programmed with the latest version of the spot welder software.
2x M3x20 screws with nylon nuts. These are used to screw the two boards together to make it sturdy.
8x M3x8 screws and M3 nuts for mounting the metal parts.
Around a foot of thin wire for connecting 12 volts to the Spot welder PCB.
A 2-pin connector with a 10-inch cable used to connect a foot pedal switch
2x M6x10 screws and nuts for mounting the XT90 adapter or welding cable.
Make sure to read the Quick Start Guide before using the Spot Welder, and note that the minimum setup to get started welding is the prebuilt kit, welding cables, and a car battery of at least 500 CCA (cold cranking amps). You will also need a set of battery terminals.
There are some optional components that can easily be added to this amazing opensource welder:
A foot switch can be used to activate the welding pulse manually in the event that you don't want to use the auto setting. Just in case there is an unforeseen failure, it's always good to have an ANL 300A fuse to keep things safe and protect the Spot Welder.
The case kit provides a physical layer of protection to your welder and prevents it from getting shorted out by items on your workbench. A battery extension cable is useful if you are using a large, heavy car battery to power your welder so that you can have the battery placed elsewhere.
If you are using a Lipo battery to power your spot welder, then an XT90 adapter is a must-have component. For those that don't like to solder, we have some great news for you! Version 4 of the prebuilt kit can be totally finished without any soldering.
So, What Is The Arduino Spot Welder?
It's exactly what it sounds like, an Arduino Nano-based spot welder used for building lithium-ion batteries.
You can use this spot welder to weld 18650, 21700 batteries, 32650 batteries, and much more. It relies on a 12V car battery (or equally as powerful AC to DC power supply) For the best results and most practical and economic setup, a 60Ah 600 CCA car battery is recommended for welder operation. This type of battery is able to deliver plenty of current to achieve great welds with nickel strips as thick as 0.25mm.
Welding thicker nickel strips is possible with the Arduino Spot Welder, but you would need a battery that can support at least 800 cold-cranking amps.
This welder generates two pulses. The first pulse occupies 12% of the time that the machine is set to. The second pulse is the full pulse width. The pulse time can be easily adjusted by the built-in rotary encoder and is displayed on the screen in milliseconds. This makes it extremely easy to adjust your weld time from 1 to 500ms.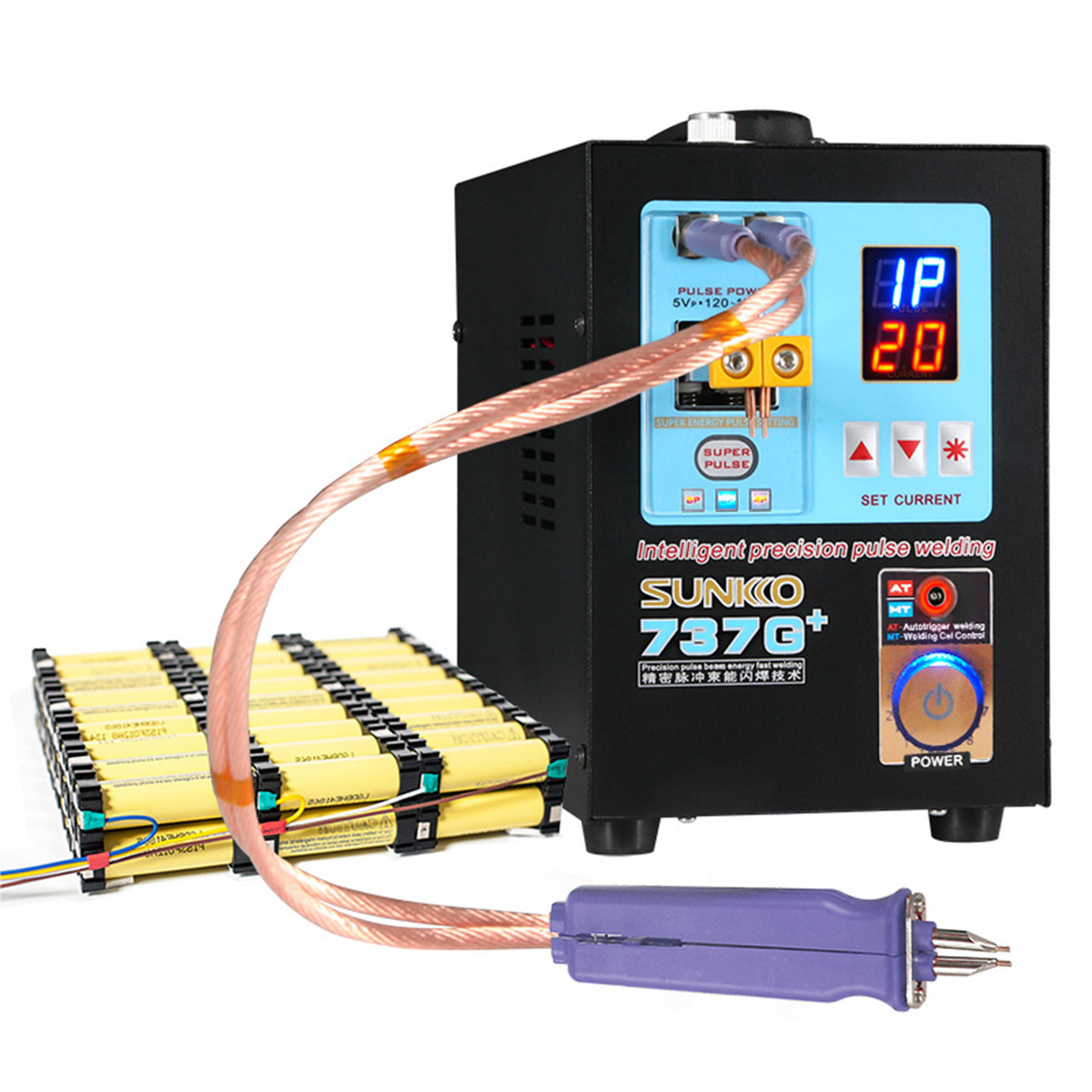 SUNKKO 737G+ - Best Bench Based Spot Welder
The SUNKKO 737G+ Spot Welder is a medium-level spot welder. The welder relies on a simple 120V AC power input and can provide a welding current of up to 1200A. This welder's single pulse time is fixed at 5 ms, but the number of pulses can be set to anywhere between 1 and 18 pulses.
This welder has no problem welding pure nickel, nickel-plated steel (gross), or even iron. It cannot, however, weld copper or aluminum. This model is good for building large lithium battery packs that have plenty of room for large sheets of nickel.
The plus in SUNKKO 737G+ means that it is a new and improved version of the already very well-received model 737G. The range of thickness for nickel welding is 0.03 to 0.3 mm when using the fixed copper head and 0.03 to 0.2 mm when using remote welding electrodes.
This welder has a convenient pressure regulating knob and includes a welding pen that has 22.8″ cables. The welding needle distance can be adjusted to anywhere between 2 and 7 mm and includes support for a foot pedal (manual trigger mode) or AT (auto-trigger) mode.
It's got a built-in temperature sensor and cooling system that automatically kicks on and off as needed.
Pros
Simple AC power input. No need for a massive battery.
It can be used as a fixed-head welder or remote welder with an electrode pen.
It can weld pure nickel up to .3mm thick.
Manual trigger supported via foot pedal.
It has a built-in solder iron that can heat to 300C in under 10 seconds.
Bright, easy-to-read LCD display.
One-year warranty.
Cons
Somewhat expensive for a hobbyist.
Heavy and bulky
Cannot weld copper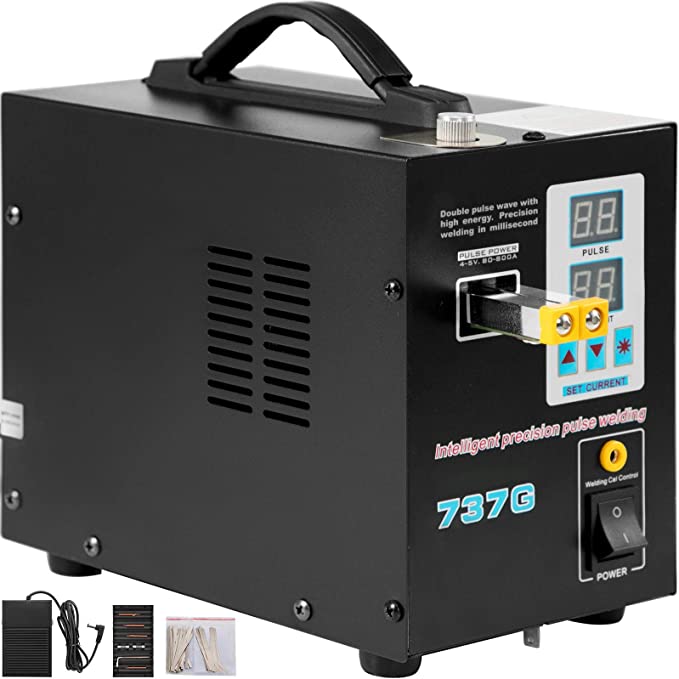 Mophorn 709A - Runner Up Bench Based Spot Welder
Next up is the Mophorn 709A Pulse Spot Welder. This is another medium-level 'portable' spot welder. I put portable in quotes because really, this class of machine can be *moved* but I would not consider it portable. For one, they are heavy and big and two, they have no battery. Like the welder above, this one uses a convenient 120V AC input and can do up to 1200 amps of welding current. Unlike the welder above, this model has an adjustable pulse length of anywhere between 2 and 18 ms.
This welder has a built-in LCD that shows all the figures that you would need to see, such as pulse quantity and the measured current during welding. Also, the LCD panel allows you to set the options such as current level and pulse easily.
The Mophorn 709A welder can be used to construct a wide range of battery packs from button batteries to building e-bike batteries and just about everything in between.
This welder can work with metals of various thicknesses and can achieve professional and reliable solder joints. The Mophorn 709A welder is capable of welding nickel-plated steel strips from 0.05 to 0.35mm but that is not recommended. For best results, use *a pure* nickel strip between 0.05 and 0.25 mm.
This spot welder includes a precise welding pen that is much easier to use than stationary weld heads. It features a double-click welding needle that provides far more balanced joints.
Pros
Easy and always available 120V AC power input.
3 lbs lighter than the welder above this one.
Supports Automatic Welding and manual footswitch control.
Integrated welding pens.
LCD display and setting.
LED illumination lights.
Cons
Massive non-portable box.
Heavy
Expensive for hobbyists.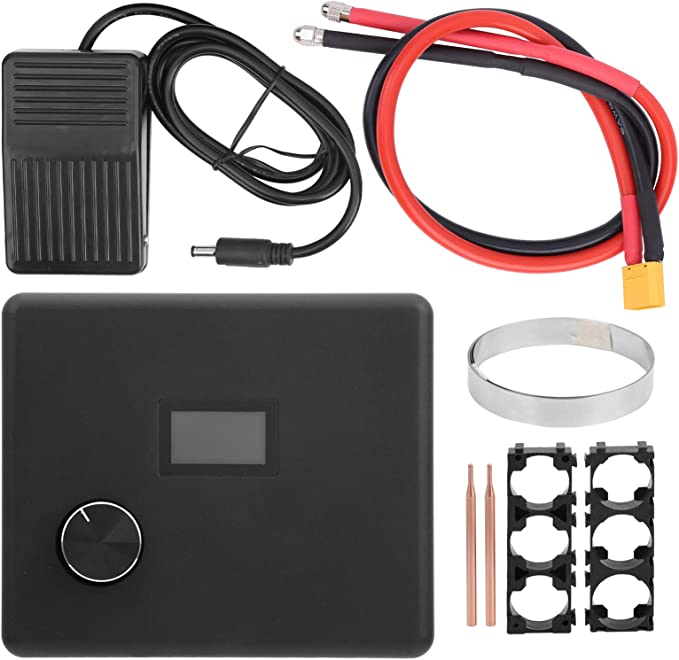 SQ‑SW1 - Best Portable Spot Welder
And here we have a medium-duty truly portable spot welder. The SQ‑SW1 is a lightweight welder that is convenient to use and can be up and running in minutes. The supports a DC input voltage of 10 to 14V and has a trigger delay of anywhere between 0.5 and 5 seconds. Its pulse width can be adjusted to any timing between 1 and 100ms quickly, and up to 500ms if you don't mind digging around in the settings.
This portable battery-operated spot welder is used for building small batteries for DIY power banks, electric vehicles, model airplanes, ship models, power tools, and much more.
This ultra-compact spot welder is extremely easy to store and carry, and it's just as easy to operate. It has high and low voltage warnings for the input and it comes with a beautiful high-contrast OLED display.
The SQ‑SW1 welder supports features like automatic and manual working modes to meet the various needs of your applications. It has a well-designed outer casing that ensures toughness and reliability.
This spot welder does not include a battery, so you will have to come up with that part. For best results, we recommended using a Lithium polymer battery in a 3S configuration that can do at least 60C discharge. Or you could use a car battery with at least 500 CCA.
Pros
Excellent quality for the size and price.
Convenient to use and easy to get up and running.
Supports both automatic and manual operation.
Rugged outer plastics.
High contrast, easy-to-read OLED screen.
Cons
Less powerful than larger, bulkier welders.
Batteries not included.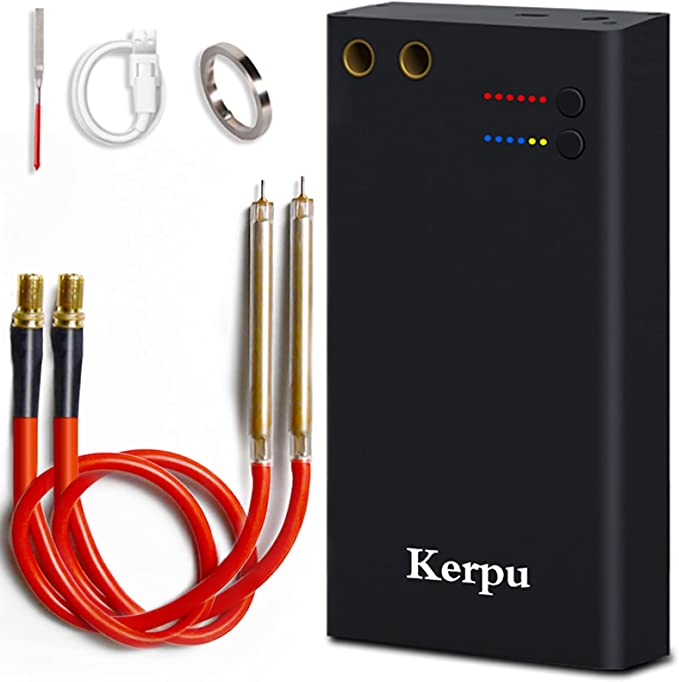 Kerpu Rechargeable - Runner-Up Portable Spot Welder
Last (and definitely least) is the Kerpu Rechargeable Portable Spot Welder. This is another ultra-compact welder that is truly portable at just 1.79 pounds. This is most certainly a budget spot welder that is plenty good enough for small-scale DIY battery projects.
This tiny welder has all the features you would expect for a spot welder such as over-charge protection, over-discharge protection, and over-temperature protection that automatically cuts power when any overheating happens.
The Kerpu spot welder has 6 power levels that are referred to as gears. There is a knob that is used to adjust between them easily. As you would expect, each successive gear has an ever-increasing weld temperature compared to the one before it.
This spot welder is easy to operate and has both manual and automatic modes of operation. It also has a dedicated button that is used for switching between those two modes. It is powered by a built-in 6700maH rechargeable lithium battery.
This welder is not nearly as powerful as the other welders on this list, so you can only do around 400A of welding current. That is actually more than enough for small battery packs. The welder has a USB C port for charging, which is always convenient as you don't have to play the 'which way does it go in' USB game, at least not on the welder end. Charging time is about 3 hours from empty to full.
If the welder senses that its internals reaches 140ºF or over, the welder will automatically shut down to prevent damage to the battery. Also, the welder will shut down after detecting 8 minutes of idle time.
This welder can be used for 18650 cells and other cylindrical lithium battery types. You can expect it to be able to weld pure nickel strips up to 0.1mm thick. The welding electrodes are connected to the welder with 16 inches wires, making it easy to move the welder off to the side while you are working.

Pros
A truly compact and portable solution at just 1.79 pounds.
Powered by an included 6,700 mAh rechargeable lithium battery.
Peak realistic power output of 400A.
Long 16 welding cables.
Low cost.
Over-temperature protection.
Relatively fast 3-hour battery charging time.
Cons
Limited metal thickness welding compatibility.
Conclusion
If you are a newcomer to the field of battery building, it can be challenging to find the best spot welders for battery packs. This is compounded by the fact that different batteries for different applications have varying needs in terms of what type of spot welder is used for the job.
The kWeld is hand-down the best spot welder for battery packs that you can get. With the kWeld, there is no type of battery that you cannot build. For those that don't have the funds for a kWeld, the Arduino Battery Spot Welder provides a viable alternative. If you have the space for a large-format welder and don't need to do any copper welding, then the SUNKKO 737G+ or Mophorn 709A spot welders will do just fine. If you are only planning on building small relatively low-power battery packs, then the Kerpu Rechargeable Portable Spot Welder are excellent choices.
We hope this article helped you find the best spot welders for battery packs. Thanks for reading!